TFA Throws The Spotlight On MOBILE CAR SPA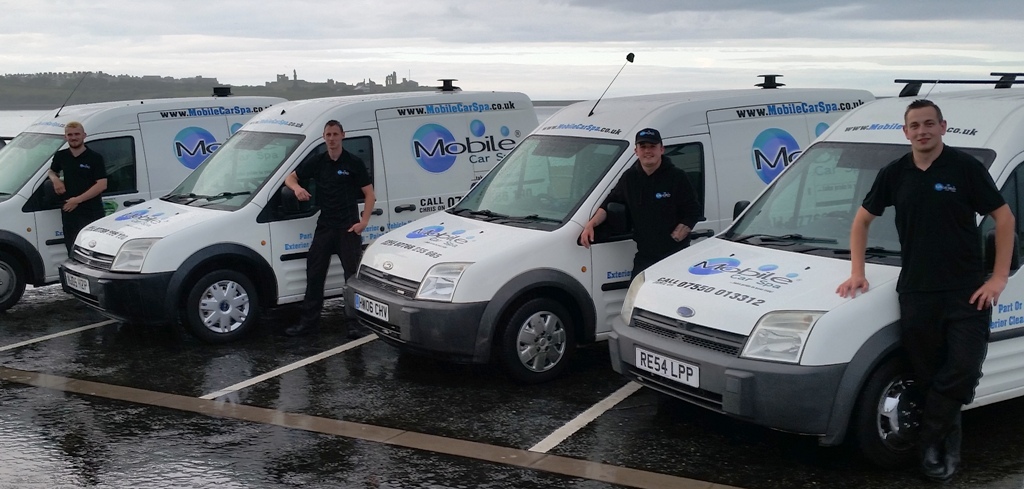 Here at The Franchise Alliance we like to throw the spotlight on franchisors who we think embody the true spirit of franchising. The kind of franchisor who supports, trains and values his franchisees even to the point of publishing how they like their "brew" (a Northern expression) on the website!
Meet Jamie Cullen the brains behind Mobile Car Spa which he set up in March 2011.
Jamie wanted to offer his customers affordable car valeting and detailing services with the convenience of allowing them to choose where and when.
Jamie has always had a passion for cars, a passion shared by each of his franchisees, so much so that he used to experiment with different polishes and waxes on friends and family's cars. Fortunately the results only encouraged him further.
Having realised his own dream of starting a business where he could indulge his passion he decided to offer other like minded entrepreneurs the opportunity to do the same and so he launched his first franchise in March 2015. His first franchisee Chris was so successful that in June 2016 Jamie welcomed Jordan to the Mobile Car Spa team, hotly followed by Ryan in July.
Jamie has ambitious plans to extend his business to cover the whole of the UK and with this in mind he enlisted the support of The Franchise Alliance and its strategic partners. Jamie needed an affordable accreditation for his franchise model and this is just one of the benefits that membership of The Franchise Alliance affords. Another is access to a Government approved start up loan scheme which is unsecured and very affordable at only 6% pa. Accredited members of The Franchise Alliance have the opportunity to apply for this funding to enable interested candidates to buy into their franchise opportunity.
As Jamie is fully committed to the success of his franchisees he also welcomed the chance to assist them with securing low cost finance from a trusted and reputable provider.
Jamie's team can also access ongoing support and mentoring in addition to the invaluable training and experience that Jamie himself provides.
Jamie's first franchisee, Chris, had this to say-
"I joined the Mobile Car Spa franchise in March 2015 and haven't looked back! The induction training was very informative and helped me brush up on and gain new skills. The ongoing support is helpful and is readily available. I have had bookings from day one and I am gaining new customers constantly. I feel that I am part of an ambitious network with exciting benefits and rewards".
Jamie's care extends way beyond care for his own team in that for every car that is cleaned by Mobile Car Spa a donation of 20p is made to Drop4Drop. Jamie explains – "As we use water on a daily basis for the cleaning of vehicles it's easy to take water for granted, that's why Mobile Car Spa has teamed up with Drop4Drop to help make a difference to those who don't have drinking water. Mobile Car Spa and Drop4Drop are partnering to fund a much needed water project for a community in Zambia".
So if Jamie's team sounds like the kind of team you would like to be a part of then why not get in touch?