You are here:
Talking Tots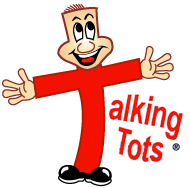 Fun classes where chatter matters
Type:

Service Provider

Categories:

General info

We've used our experience as paediatric speech and language therapists to create a fun, rich programme that can benefit all children. Our classes are carefully designed and structured to build on each stage of your child's natural language and communication development, providing just the right combination of fun, excitement and learning. Crucially, Talking Tots is a full three-year programme – meaning your little one will continue to be challenged and engaged by the classes no matter what age they are.

Our unique programme was developed with the help of a team of early years experts, including teachers, educational psychologists and fellow speech and language therapists. You can be confident that our classes won't interfere with more formal learning programmes, and will make the transition into the classroom a little easier for your little one.

Since we launched our first Talking Tots class in Lytham in 2005, we have been absolutely thrilled by the response from parents and children. We believe that Talking Tots offers something special for pre-schoolers. While there are lots of classes focusing on sport or music, we're the only class that is dedicated to helping your children develop communication skills and confidence – perhaps the most important skills we ever learn!
BUSINESS REVIEWS
Add review
There are no reviews at the moment